Who We Are - Our History
The Company's Origins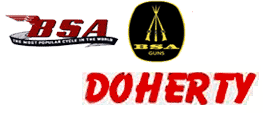 MCA (Aston) Limited goes back as far as 1935, when it commenced trading as Aston Auto Motors with premises located in the now non-existent area of Potters Hill in Birmingham.
It quickly established itself with the local motorcycle enthusiasts having dealerships for most of the popular British Motorcycles and later Scooters. The company later became involved in reproducing replacement spare parts and specialising in the manufacture of tools and extractors for numerous motorcycles and also for major motorcycle manufacturers in The Midlands.
I first became aware of them during my days as a buyer with BSA Motorcycles during the 1960's. During the redevelopment of central Birmingham in the 1950's, Aston Auto Motors' premises were compulsory purchased and ceased trading.
The business was split into two separate companies, one being Auto Tools and General Engineering, the other, MCA (Aston) Ltd who specialised in the wholesaling of replacement spares and accessories to direct trade outlets only.


MCA (Aston) Ltd
The company was first registered in 1952 and at the time relocated to its existing site in Victoria Road, Aston, Birmingham.
We purchased the business in October 1986 saving it from bankruptcy and have expanded it significantly by concentrating on supplying suitable replacement spares and accessories for Classic British Motorcycles.
We have a vast stock range in excess of 25,000 product lines which makes us one of the largest wholesalers in this field with 90% of our parts being manufactured in the UK. We pride ourselves with "BUYING BRITISH" and supplying quality parts to our customers
MCA (Aston) Limited is a family run business with dedicated friendly staff who pride themselves on being able to respond to a customers needs and providing advice and helpful assistance on part related queries and also offering same day dispatch on all orders.
We focus all our energy on delighting our customers again and again with the highest of quality products.
Our Website
Our website is now the easiest way to place orders and check stock availabilities, it is also to support our International dealer network. Please feel free to browse and search for parts as you may not find them anywhere else.
Locating Parts
Should you locate a part in our database you can contact us and we will make it available to you via your nearest dealer. Unfortunately we do not supply directly to the public. Simply click on the link to contact us from the part page and we will email you back with details of where you can obtain the part.
Dealerships
Alternatively, click on this 'Dealerships' link, select your part of the world, find out who your preferred dealer is and contact them directly.